Cosoos charging station review
Cosoos Charging Station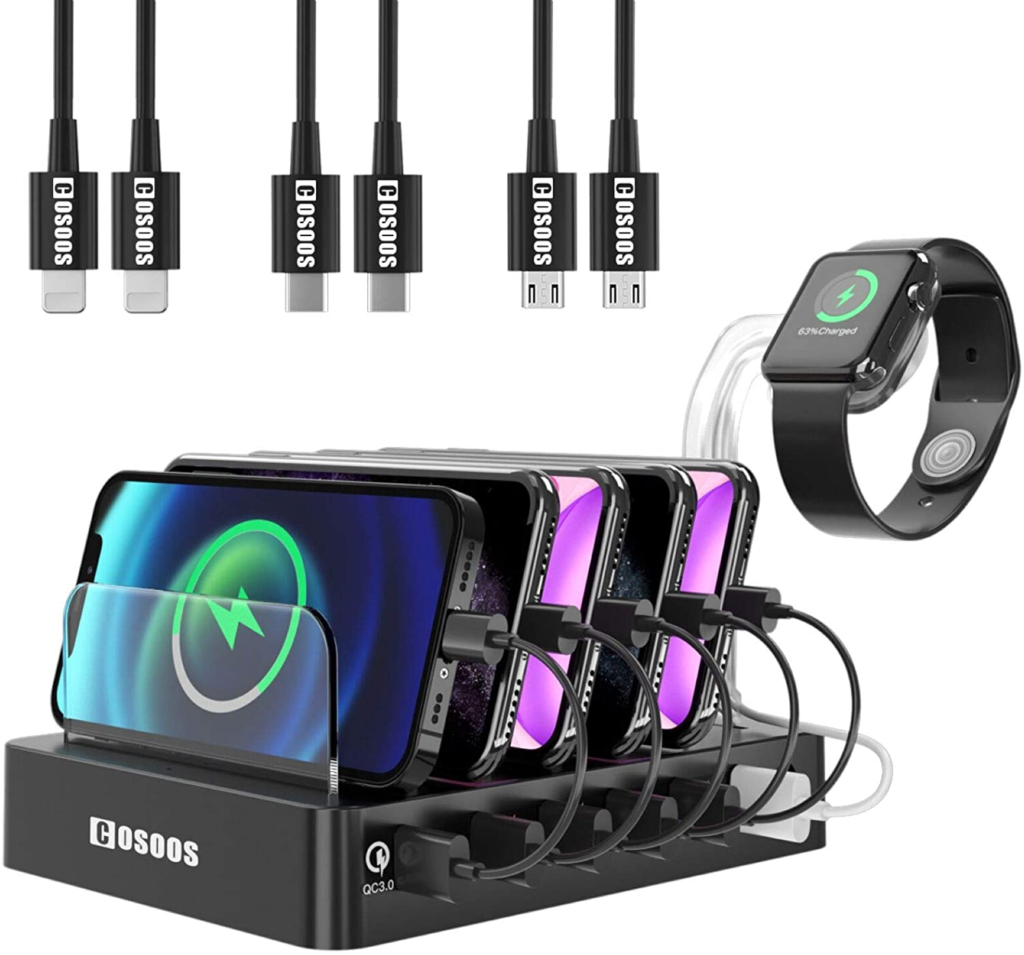 What works well
Charge 6 devices simultaneously
6 cables included
Watch holder and 7 separators
Quick Charging
Would be better if
Not compatible with usb-c iPad
This charging station has everything you would to simultaneous charge 6 devices in a very organised way. With added functionality of 3.0 quick charging
The Cosoos charging station allows you to charge 6 devices at the same time
This Cosoos charging station allows simultaneous charging of up to 6 devices. You can charge smart phones, ipads, tablets, power banks and more at the same time with this multiport USB charger by COSOOS! Keep your devices organized with the use of this well-designed charging station. Charging base can automatically identify your device and deliver up to 12A from all 6 ports simultaneously .
Compatible with multiple devices including Android and iphone
The 63W fast usb charger station provides one-stop charging solution for multiple devices and compatible with iPhone 13 Pro Max, iPhone 13 Pro, iPhone 13, iPhone 13 mini, 12/11/Xs/Xr/8/7/6, iWatch, Android, smart phone, Samsung Galaxy, tablet, Kindle, bluetooth speaker, earbuds, wireless charger and more. Please note it not compatible with usb-c iPad, however you can order the COSOOS PD charging station for iPad Pro.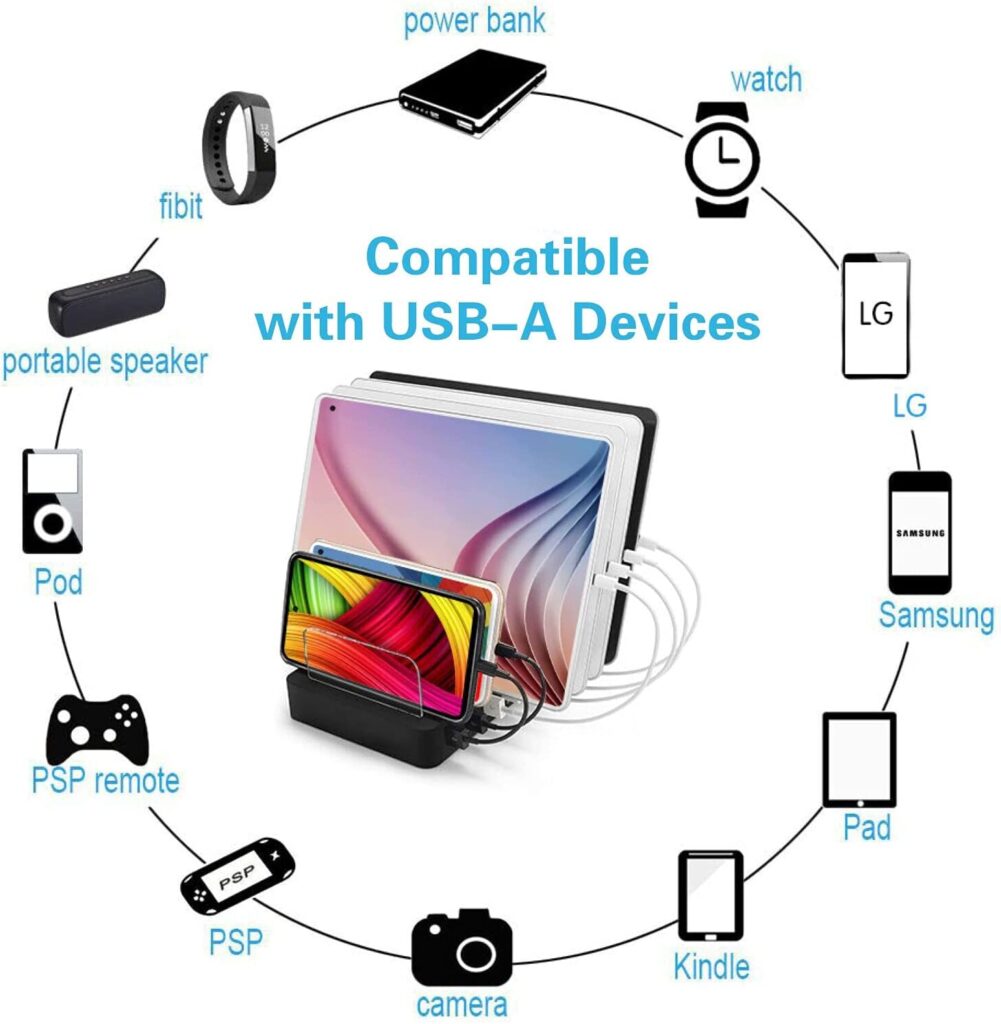 Charge your devices up to 80% faster with the Cosoos charging station
This charging station has Qualcomm Quick Charger 3.0 Certification which recharges your cell phone up to 80% faster than QC 2.0, saving your time and never let your devices power off. Other 5 ports have high-power 2.4A quick charging ports for power-hungry devices like tablet & large smartphone.
6 USB cables are included – no more clutter
The Cosoos charging station includes 6 (23 cm/9 inch) USB Charger Cables. This comprises of
2 lphone charge & sync cables
2 micro cables
2 type c cables.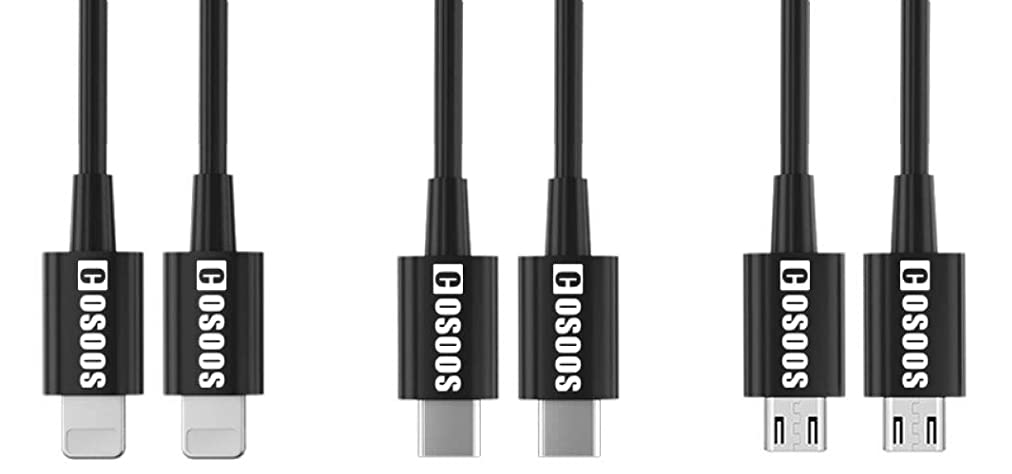 No more cluttered cables. You do not have to plug a bunch of chargers on your power outlet for every phone and tablet you have. This is a charging station for multiple devices, keep everything in one place and super tidy.
7 Innovative removable separators and watch holder
Detachable separators can be easily removed from the base, to allow enough space to position devices, lying flat or sideways to charge. This charger station can save a lot of space and is easy to carry on the go. It's great that it includes 7 separators and 1 watch holder.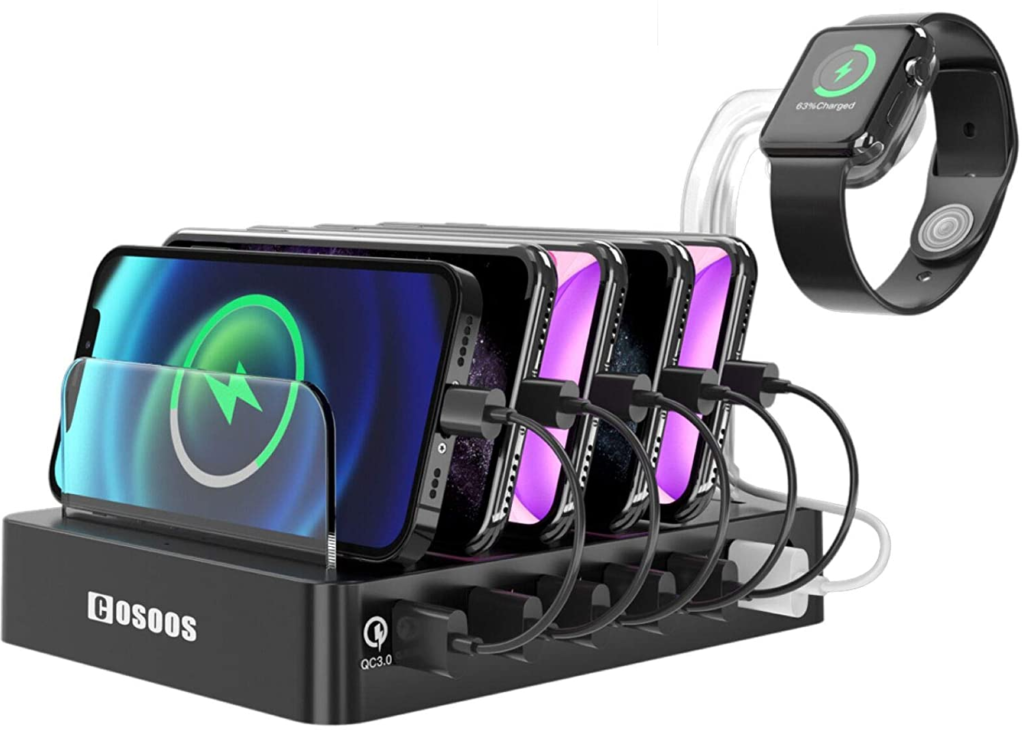 Safety and protection
COSOOS charging station protects against short-circuit, over-voltage, over current, over-charge and has a travel friendly input voltage range of 100 – 240 volts. Built-in 100% premium copper wire with high standard quality control.
We hope you found this review useful. Please check some of our other reviews here